Book 3 of The Glades County Cowboys Series—Harlequin American Romance
Available:  May 1st, 2015
Falling in love again didn't figure into widower Garrett Judd's plans when he brought his infant son home to the Circle P Ranch.  But bluegrass sensation Lisa Rose plucks the rancher's heartstrings as sweetly as she strums the guitar.  When Lisa discovers she's carrying Garrett's baby, will his love overcome the fear that history will repeat itself?
---
REVIEWS
RT Book Reviews gave THE RANCHER'S LULLABY a 4 1/2-star fantastic review saying, "Emotional and realistic, readers will fall in love with this sweet couple."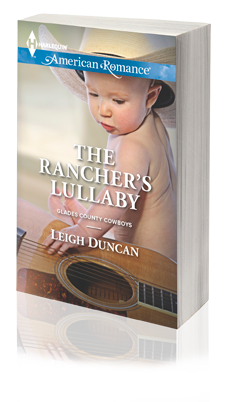 Glades County Cowboys Series