Harlequin American Romance
ISBN: 978-0-373-75308-6
Winner, 2007 Golden Rose Contest for Short Contemporary Fiction
Finalist, 2011 Golden Quill
Finalist, 2011 Write Touch Reader's Award
Stephanie Bryant's corporate image make-over backfires when her sophisticated hairdo curls in Florida's humidity and her sculpted nails pop off at the most inconvenient moments.  Despite these minor setbacks and the eerie quiet of her brand new neighborhood, the twenty-six year old is determined to put her best stiletto forward as Space Tech's newest head of Human Resources.
But more than the landscape changes when a hurricane practically blows Florida's newest resident into the arms of the disillusioned cop standing on her front porch. The hunky embodiment of male perfection is an irritated Brett Lincoln, whose patience has fallen faster than the barometer.  When Brett snarls that Hurricane Arlene threatens more than her manicure and offers to escort her across the causeway – in hand-cuffs –the last thing he wants in his life is another self-centered woman, even if the keys to his own emotional survival dangle from her perfectly sculpted nails.
---
Reviews
Gives the term "beach read" a whole new meaning
Romance Buy the Book

Leigh Duncan creates a strong story from its stormy beginning to its happy ending. The setting is a fabulous choice...I could almost smell the s'mores at the shelter.
Coffee Time Romance and More
A heartwarming novel
CK'S Kwips and Kritiques
 Solid storyline
RT Book Reviews Magazine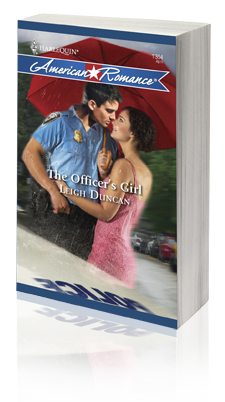 BUY THE BOOK
The Officer's Girl 
is out of print at this time.