Harlequin American Romance
ISBN: 978-0-373-75364-2
Winner 2012 HOLT Medallion Award of Merit
Finalist Colorado Romance Writer's Award of Excellence
New England Reader's Choice Bean Pot Award and Golden Quill Awards
Winner of the 2009 Fire and Ice Contest for Short Contemporary Fiction
A foster care success story,Dan Hamilton can practically taste the Kalamata olives when fellow doctors ask him to join them in building a Surgery Center for the Stars in Phelps Cove, the last undeveloped tract of land in Merritt Island.  But when Dan disturbs a school of redfish and costs her son the catch of a lifetime, fly fishing guide Jessica Cofer seriously considers stranding the interloper in the cove, where mosquitoes will carry him off… if the panthers don't get him first.
More than hooks and lines are in the lesson plans when Dan asks the lovely widowed Jess to teach him how to fly fish, and their temperatures rise faster than mercury on a summer day.  Until Jess learns the handsome doctor has his eye on more than her curves – he plans to steal the land from under her feet.
---
Reviews
Romantic Times gives The Daddy Catch 4 stars and says: Both a lesson in conservation and compromise, Duncan's story has a charming romance with a solid plot.
In a review for the Federation of Fly Fishers, Bruce Harang calls The Daddy Catch "well-written" with a "good knowledge of both fly fishing and professional guiding."
Romance Reviews Today advises picking up a copy of The Daddy Catch where "a beautiful setting pits two people against each other, yet puts them on the road to love."
Long and Short Reviews awarded THE DADDY CATCH 4 ½ books, calling it "romance with a heart…peppered with engaging scenes that grab the empathy and imagination within a reader."
---
Video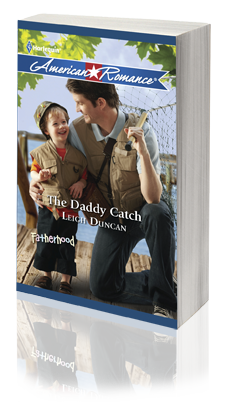 BUY THE BOOK
The Daddy Catch
is out of print at this time.