Book 1 of The Glades County Cowboys Series -- Harlequin American Romance
Available: May 1st, 2014
Will the Circle P's winsome new cook tempt a wandering cowboy to do the impossible—put down roots?  Colt Judd swears he's up to the challenge of preserving the traditions established by four generations of managers on the Circle P Ranch.  But winsome new cook Emma Shane argues for change.  And not just in the Circle P's kitchen.  She wants to change Colt's heart as well.
---
REVIEWS
Nominated for the prestigious RT Book Reviews Reviewers' Choice Award
!! Winner!!  National Readers' Choice Award
RT Book Reviews gave The Bull Rider's Family a 4 1/2-star fantastic review saying, "The Florida setting gives this story of cowboys and ranches a different perspective."
Leigh Duncan's latest has strong characterization and a vivid sense of place. ..in this 4 1/2 star book. Readers will enjoy their time at the Circle P.  Affaire de Coeur at Amazon.com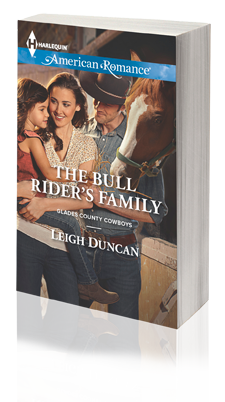 BUY THE BOOK
The Bull Rider's Family
is out of print at this time.

Glades County Cowboys Series