Book 1 of The Glades County Cowboys Series -- Harlequin American Romance
Available: May 1st, 2014
Will the Circle P's winsome new cook tempt a wandering cowboy to do the impossible—put down roots?  Colt Judd swears he's up to the challenge of preserving the traditions established by four generations of managers on the Circle P Ranch.  But winsome new cook Emma Shane argues for change.  And not just in the Circle P's kitchen.  She wants to change Colt's heart as well.
---
REVIEWS
Nominated for the prestigious RT Book Reviews Reviewers' Choice Award
!! Winner!!  National Readers' Choice Award
RT Book Reviews gave The Bull Rider's Family a 4 1/2-star fantastic review saying, "The Florida setting gives this story of cowboys and ranches a different perspective."
Leigh Duncan's latest has strong characterization and a vivid sense of place. ..in this 4 1/2 star book. Readers will enjoy their time at the Circle P.  Affaire de Coeur at Amazon.com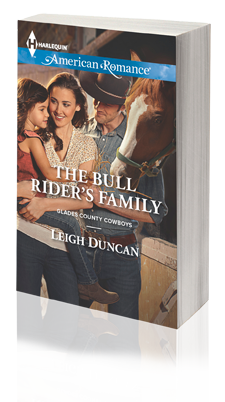 Glades County Cowboys Series