Harlequin American Romance
ISBN: 978-0-373-75509-7
#1 in Kindle sales for Harlequin American Romance!
To prove he has a boy's best interests at heart, can a former minor league baseball player become a major league dad?  Travis Oaks struggled to make it into The Show before three broken ribs ended his career as a pitcher.  Now he's given a chance to mold raw talent when a school yard fight forces widowed mom Courtney Smith to choose between expulsion or Little League for ten-year-old Josh.  There's just one problem.  The slim blonde with a baby on one hip and desperation in her blue eyes doesn't want anything to do with baseball...or the men who play it.
---
Reviews
A "sigh worthy romance" that will "delight and entertain all readers of romance," 4.5 stars from CataRomance
"A heartwarming love story...emotion packed with great characters,"  Night Owl Reviews
4 stars, "For a sweet and heartwarming read, don't miss Second Chance Family by Leigh Duncan," Harlequin Junkie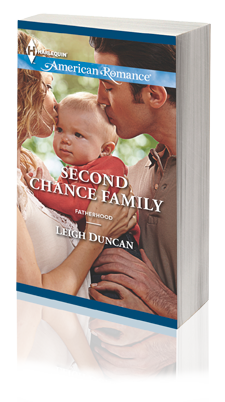 BUY THE BOOK
Second Chance Family
is currently out of print.