ISBN:  978-1-944258-14-6
Broken Road is the third book in The Orange Blossom series, the latest in heartwarming Women's Fiction from National Readers' Choice Award winner Leigh Duncan.  Watch this space for more about Broken Road, and be among the first to read Penny's story when it goes on sale this winter.
About The Orange Blossom series:
Welcome to Orange Blossom, a town that owes its existence to the early settlers who were stubborn enough—or foolish enough—to brave Florida's mosquitoes and hurricanes until their wives and children finally started calling the central part of the state their home.  That was four generations back.  Since then, the population has grown to a whopping nine hundred and forty-three quirky characters, ornery cusses and staid leading citizens who worry that nearby Orlando, where theme parks sprout on every corner and tourists crowd the streets, will gobble up their small town.  Others fear a big juicing conglomerate will snatch up the last family-owned-and-operated citrus grove around these parts.  Either scenario is sure to drive every store in Orange Blossom out of business, and what would the town be without Miss June's Pie Shop on Main Street, or the Book Nook down on the square?
But change is coming.  The girls who spent their summers at the camp Margaret and Jimmy Castle ran for kids who had nothing better to do than get in trouble are grown now. The ones who stuck around Orange Blossom all these years are taking a fresh look at their hometown, while those who left miss the quiet streets and laid-back lifestyle. And they're coming home to renew old friendships, grab a second chance at life...and fall in love.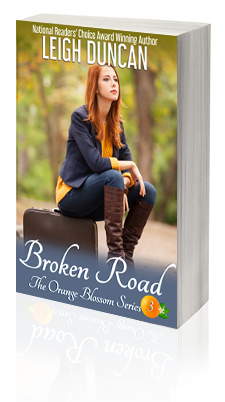 BUY THE BOOK
Order your copy of Broken Road when it goes on sale this winter!
Amazon | iBooks | Barnes & Noble | Kobo